NuFace Advanced – Gray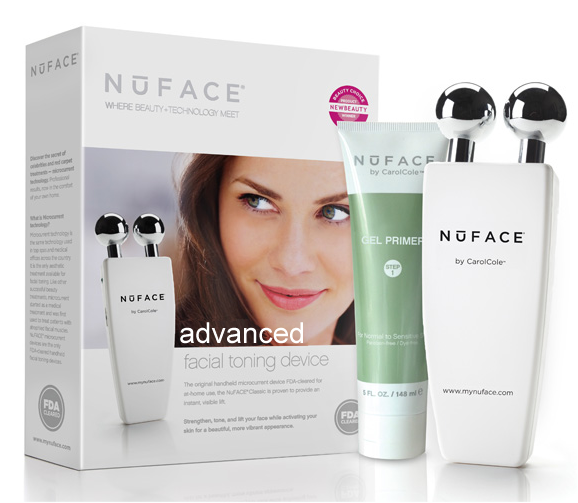 Out of stock
Share:



Product Description
SkinMedix now offers the new Advanced version of this award-winning device normally available only from professional spas and medical offices which features:
10x the battery life

Low Battery Indicator Light

5 second audible indicator
NuFace is the first and only hand-held device FDA approved for facial toning and stimulation. This exclusive device is the only to offer the benefits of microcurrent technology for at-home use. Microcurrent stimulates, lifts and tones the facial muscles; which is the foundation and underlying structure to our skin. NuFace is used in luxurious spas as a non-invasive facelift, and a celebrity pre-red carpet treatment for its immediate, yet cumulative results.
The NuFace device is an easy to use, lightweight, battery operated device that delivers low-level electrical microcurrent impulses to strategic locations on the face to improve facial tone to a more youthful balance. Simply apply the conductivity gel to your skin then, following the natural contours of your face, glide the NuFace device for an instant visible lift. Upon completion of treatment, utilize the Optimizing Mist to promote continual hydrating and firming. Touted as "Pilates for your face", regular use of the NuFace device will provide facial strength and tone while maintaining a more vibrant appearance.
The NuFace device works by emitting unique electrical microcurrent impulses through spherical probes designed for optimal contact with faces of all shapes and sizes. The NuFace device continually alternates between the positive and negative probes and allows the user to adjust the current settings for a personalized comfort level.
Within 5 minutes, enhance your current prevention or rejuvenation skincare regimen.
KIT INCLUDES:
NuFace Advanced Device – Gray

Conductivity gel 5 oz.


9-volt alkaline battery

User Manual and Package Insert
The Nuface device is compatible with both 110v and 220v electrical systems worldwide but comes with a standard USA / North American plug. SkinMedix offers adapters for both Type 1 (Australia and China) and Type C (European) 220v electrical outlets.
Additional Information
| | |
| --- | --- |
| Weight | 2 lbs |
| Dimensions | 2 × 10 × 10 in |